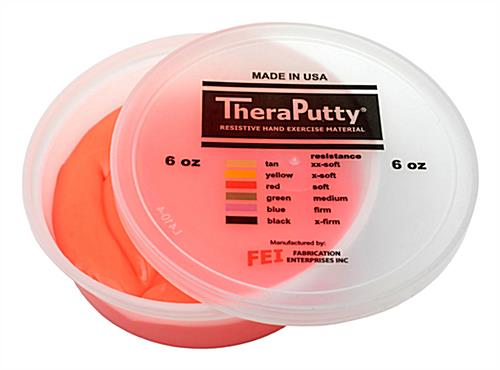 Physical and Occupational Therapy Putty 3 oz. – 5 lbs.
$9.49
(

USD

)
IN STOCK
Ships in 3 business days
Copied to clipboard
Please press Ctrl+C (or Cmd+C) to copy.
Therapy Putty for Strengthening Hand Muscles and Grip
Helps Improve Fine Motor Skills
Six Color-Coded Consistencies Available From XX-Soft to X-Firm
3 oz. and 6 oz. Perfect for Patients to Continue Therapy at Home
1 lb. and 5 lb. Ideal for Physical and Occupational Therapy Clinics
Will Not Dry Out
Easy-to-open Plastic Containers for Storage
Gluten, Latex, and Casein-free Non-toxic Putty
Therapy Putty for OT and PT
This resistive, non-toxic material is used by occupational therapists, physical therapists, and rehab specialists and their patients to help strengthen fingers, hands, and wrists. Therapy putty is used to improve fine motor skills by helping patients with exercises that include twisting, stretching, squeezing, and gripping to simulate everyday activities.
The therapy putty is available in six resistance levels that are color coded, from the Tan XX-Soft to the Black X-Firm. These options allow therapists to help their patients gradually regain strength, starting them with the lowest resistance and working their way up to the highest.
Download this free guide for exercise ideas.
CanDo Theraputty is gluten, latex, and casein-free and will not dry out. The putty comes in easy-to-open plastic containers for storage and transportation.
Sizes Available for All Uses
Medifor offers CanDo Theraputty in 3 oz. and 6 oz. sizes, ideal for the patient looking to supplement their therapy with putty that can be used in the comfort of home. For physical and occupational therapists looking to stock up their practice, Medifor offers 1 lb. and 5 lb. options, as well as multi-packs. Each color/strength of Theraputty comes in its own plastic container for storage.