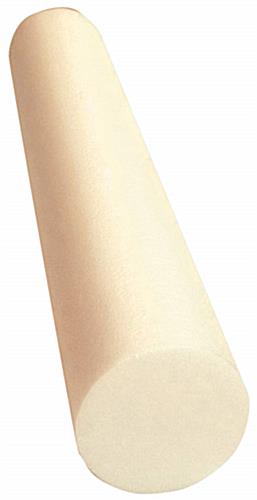 Medium Density Antimicrobial Foam Roller for Physical Therapy Helps Prevent Bacteria
$14.99
(

USD

)
IN STOCK
Ships in 2 business days
Copied to clipboard
Please press Ctrl+C (or Cmd+C) to copy.
Beige Antimicrobial Foam Rollers Available in Multiple Shapes and Lengths
Available in 12" and 36" Length / Half Round and Full Round Options
Antimicrobial Additives Protect Against Bacteria and Odors
Used for Self Massage, Muscle Recovery, Rolling Out Tight Muscles and Tension Relief
Ideal for Healthcare Professionals, Trainers, Physical Therapy Patients and Athletes
6" Diameter Offers Versatility for Various Therapy and Exercise Programs
Standard Density Provides Medium Hardness and Moderate Cushion
Half Round Shape Options Increase Stability for Floor and Table Exercises
Buy More Than 10 and Save 10% off Your Order in Cart
Beige Antimicrobial Foam Rollers for Massage Therapy, Physical Therapy, and Pain Recovery
Medifor partners with CanDo® to offer a complete catalog of foam rollers to help fulfill your exact need. Whether you're looking to massage sore muscles, an accessory for your exercise routine, or strength development in physical therapy, we have you covered.


Additional Options
Buy More, Save More
Replace your old physical therapy rollers with antimicrobial foam rollers and adapt your physical therapy practice to meet hygiene and cleanliness guidelines. The antimicrobial additives help protect against bacteria and help prevent the spread of microbes and odors. Constructed of polyethylene (PE) and featuring a neutral beige color, these antimicrobial foam rollers are the standard for physical therapy practices and massage therapy centers. Buy more than 10 of the same product and receive 10% off at check out or contact us today for custom large quantity quotes.


Why Use a Foam Roller?
Note: Always consult your doctor or physical therapist before beginning a foam roller routine. Foam rollers offer a valuable and simple way to relieve tension, soreness, pain, or stress after a workout. Using a foam roller as part of your exercise or physical therapy routine can help recuperate sore muscles quicker by rolling out tight muscles and relieving tension through a process called myofascial release. Foam rollers help speed up muscle recovery by rolling out sore areas and breaking up the network of tissues that connects muscles. Common ways and exercises foam rollers are used for are:

Directly massaging sore areas of the body
Using it for a variety of self-care programs including yoga, meditation, and Pilates routines
Stretching and flexibility exercises to increase strength and motion
Support for different parts of the body to increase everyday comfort
Foam rolling is a simple and inexpensive way to combat physical discomfort. We also offer high density foam rollers for a deeper and more intense massage.


Benefits of Antimicrobial Additives
Our antimicrobial foam rollers offer protection against bacteria, mold, mildew, odors, and other hazardous microbes. Without the presence of bacteria, the material will be cleaner, smell fresher and last longer. You will also have to replace the foam roller less frequently. The polyethylene foam is easy to disinfect, simply use mild soapy water with a damp cloth after each use and let it completely air dry. Avoid direct sunlight and outdoor use to prevent UV rays from damaging the material over time.